While there are many projectors on the market that come with one or few HDMI ports, the HDMI ARC feature isn't yet commonplace. But with more and more consumers yearning for the HDMI Arc feature on projectors, a few models now come with the feature. In this post, we'd be looking at some of the best projectors that come with an HDMI ARC port.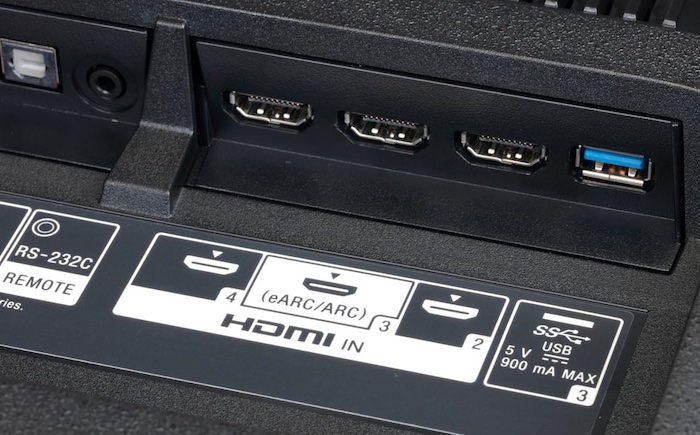 Best Projectors with HDMI ARC: Our Top Recommendations
Although, at the time of this writing, only a handful of projectors on the market support HDMI ARC, making the right choice from those few options can be quite challenging if you don't know exactly what to look for. So, we put together a detailed review of the best projectors with HDMI ARC — carefully handpicked and compared in terms of design, ease of use, display quality, brand trust, and buyer reviews.
1. Epson Home Cinema 4010 4K PRO-UHD
The Epson Home Cinema 4010 is a significant upgrade to its predecessors, offering you the freedom to create a cinematic experience in your home. Epson markets this projector as one that can handle 4K content including HDR and expanded color.
The HC4010 comes in black and white variants, measuring 520 x 450 x 193 mm. At 11.2 kg, this projector isn't just chunky but also heavy, looking like something out of an actual movie theater. The only way to control it is with the remote that ships with the package. It is large, light, and feels good in the hands.
Although the manufacturer claims that the HC4010 is PRO-UHD, it is actually not native 4K. This may be disappointing but the projector uses pixel-shifting technology, which splits 4K images into two before alternating projecting them side-by-side 4K-enhanced image quality which can rival some projectors rated 4K even though it only has a full HD chipset.
For connectivity, the HC4010 offers HDMI 1.4 ports, VGA input, and a pair of USB ports. It's quite a surprise that Epson didn't provide HDMI 2.0 but you don't really have to worry about this unless you plan to use the projector for 4K gaming.
As for its interface, the HC4010 simply features sources and color modes with the latter including Dynamic, Bright Cinema, Natural, Cinema, and Digital Cinema. The first two modes work well in daylight.
Going further, the HC4010 is very bright and colorful, thanks to advanced 3LCD technology and a 2400 lumens lamp. It also supports the display of HDR10 high dynamic range content but there is no support for HLG content. In all, the HC4010 works great out of the box and throws a nicely detailed image from classics to blockbusters.
Pros
Relatively inexpensive
4K detail and color
Versatile lens-shift
Very quiet
Cons
Not true 4K
Massive size
No voice control
2. LG CineBeam HU85LA
LG is no stranger to the laser-based projector market, having some exceptional home theater projectors for some time now and it recently launched its ultra-short-throw DLP unit with laser lighting. The CineBeam HU85LA is a uniquely smart, user-friendly, and effective replacement for people who would have traditionally considered a large TV for their living rooms.
As expected of a groundbreaking projector from LG, the HU85LA looks good, sitting at 26.5 inches wide, 13.7 inches deep, and 5 inches tall. In effect, this is a compact unit and you won't find many throw projectors that are as small as this but it's heavy enough to point to some serious build quality.
Connections are hidden away on the edge nearest the wall and these include two HDMI ports and two USB ports that you can use for both media playback and power delivery. LG also throws into the mix a USB-C port, which is a nice touch. Check the underside of the projector and you will find a small joystick that you can use to power on the projector as well as control channels and volume. The remote comes with a design that doesn't stray far from the Magic Remote design. It is easy to use and the buttons are well laid out.
As you probably expect, the HU85LA supports the webOS smart platform (version 4.5) and if you've used one before, you will immediately recognize how it works. Alongside the OS comes smart features like access to streaming apps, the smart device-friendly Miracast system, ThinQ AI system, and built-in voice control using the Amazon Alexa for Google Assistant platforms.
On the performance side of things, the HU85LA offers a massive 4K resolution along with 4K upscaling and support for HDR10. It also delivers brightness that's rated 2,700 lumens, which might seem insufficient to combat ambient light but when combined with the projector's ultra-short-throw design, it does really well.
Additionally, there are different modes that are both suitable for SDR and HDR. LG also claims that this model comes with a three-channel laser technology that enables it to add a red laser light source to two blue lasers to boost color range and tones. There's also a built-in speaker system with decent output.
In sum, there's no denying that the HU85LA is a powerful projector that makes for an interesting alternative to regular screens.
Pros
Excellent image quality
Built-in WiFi
WebOS smart platform
Very good sound for a projector
Cons
Some rainbow-like color noise
Expensive
3. Epson EpiqVision Ultra LS500
The EpiqVision Ultra LS500 is Epson's answer to the growing competition among projector makers releasing 4K UST laser projectors. The LS500 is an ultra-short-throw laser proposition that comes with an ALR screen so you can get a big-screen experience right out of the box.
As with most ultra-short-throw projectors, the LS500 adopts a compact profile with its dimensions measuring 14.7 x 18 x 8.21 inches. It is available in white and black variants to fit your home decor. The rear side of the unit houses its connections and these include three full-bandwidth HDMI 2.0 ports (one is ARC compliant) a 3.5 mm audio output, an Ethernet port, two USB Type-A ports, and a USB mini Type-B port.
Also, the LS500 comes included with a 100-inches ambient light rejecting (ALR) screen to match the quality of the projector.  Apart from the fact the screen keeps the contrast high and colors bright with zero glare, it also allows for wide viewing angles so you can watch your favorite content from any part of the room. And you can mount the screen if you want using the wall brackets.
Furthermore, Epson supplies two remotes for both the projector and the Android TV dongle. The presence of the Android TV dongle already implies that the LS500 comes with an Android operating system, which is intuitively laid out and easy to navigate. With this functionality, you will be able to access both Google Play Store and other streaming apps such as Netflix, HBO, Showtime, and more.
Other smart features like voice command through Google Assistant and Chromecast built-in are present. Its menus also offer a decent and flexible set of picture adjustments. Being marketed as a gaming projector, the LS500 delivers an input lag of 16.7 ms.
While it's true that the LS500 is not a native 4K system, it shows real improvements over its predecessor, offering strong, punchy and bright pictures with brightness Epson claims is rated 4,000 Lumens. Nonetheless, black levels are average as dark scenes tend to look grey where they should actually look black.
Another noteworthy attraction to the LS500 is that it supports 3D using the full resolution active shutter approach but no glasses are included. Also, this projector is also HDR10 and HLG compatible. As for its sounds, the audio system comprises 2 x 10W speakers with modest output. In all, what you will find in the LS500 is a solid piece of technology that can replace TVs with a bigger screen and even handle bright rooms.
Pros
User-friendly Android operating system
Exceptional image brightness
Comes with a UST ALR screen
Low input lag for great gaming experience
Cons
Black levels are limited
Price is on the high side
4. BenQ TK850
BenQ projectors are some of the bestselling models on the market, thanks to their performance and value. The TK850 is an excellent 4K HDR projector that's suitable for those who are tired of a boring TV experience and want more.
Even before you turn on the projector to explore its capabilities, the TK850 is a delight to look at. It sports an all-white design and rounded edges that prevent this unit with a large footprint ( 13 x 38 x 26cm) from being distracting. This makes it a better fit in a room than an 80 or a 900inch TV.
Connections are abundant on the TK850 and you will find them on the back. There are two HDMI 2.0 ports along with a SPDIF, audio out, RS232, USB 3.0, and 12V trigger that automatically turns the projector on when a live device is connected. With this range of ins and outs, it should be easy to get this projector incorporated into any setup. The remote doesn't look flashy and it offers plenty of dedicated buttons for quickly changing performance.
Unfortunately, there isn't really a smart platform here and this can either be a plus or minus – depending on how you view it. It's a plus if you don't want anything to get in the way of your entertainment since you only have to contend with a single menu but it's also a minus since there are no built-in streaming apps like Netflix, Amazon Prime Video, or YouTube. However, you can use the USB port to power 5v streaming devices such as the Amazon Firestick 4K, Roku Streaming Stick+, Roky Streaming Stick+ 4K, and Google Chromecast.
The most notable thing about the TK850 is its brightness. At 3,000 lumens, this projector has enough pops to work well in rooms with relatively high ambient light. Images are bright, sharp, and colorful while the motion modes allow games to look even smoother. Also, the TK850 supports HDR10 and HLG.
Two 5W speakers on the rear provide average sounds but you might need to get a soundbar to get more room-filling sounds. Overall, the TK850 is a great addition to a home theater setup with sufficient brightness to do the picture justice.
Pros
Very bight
Amazing for sports
Detailed and colorful pictures
Cons
No streaming apps
Very pricey
5. Optoma HD28HDR
The Optoma HD28HDR is an all-rounder that you can buy for watching movies in ambient light and for gaming. It checks just about everything required in a versatile projector – low input lag, high picture quality, and bright lamp.
Like some of its predecessors, the shell of the HD28HDR is draped in glossy white with horizontal grated slats and numerous vented openings. Connectivity options are basic, featuring two HDMIs, a 3.5mm audio output, and a 5V powered USB port. The remote is also the same, sporting a design shared across multiple Optoma projectors.
Built around a 1920-by-1080p DLP chip and a six-segment RYGCWB color wheel, the HD28HDR offers full HD resolution for all content. It can also play 4K content but it will downgrade it to full HD resolution. Colors are vibrant when using this projector and thanks to the powerful 3,600-lumen lamp, images are very bright too.
If you're looking to use the HD28HDR for gaming, you will likely be impressed by its slow input lag of 9.4ms and 120Hz refresh rate when you turn on The Enhanced Gaming mode. These keep the on-screen motion smooth without motion blur.
As for the 3-watt speaker, the sound quality is thin and it can barely fill a small room. In all, the HD28HDR performs well above average for watching movies in ambient light and gaming.
Pros
Affordable price point
Great for gaming
Superb image quality
Power saving mode to reduce electricity costs
Cons
Built-in speakers are weak