Some of the most recent Samsung Smart TV models support webcam use. So, with any of these models, you can use your TV screen for video-calling your family and friends. These models also come with the Multi View feature that allows you to play two different contents on your TV simultaneously.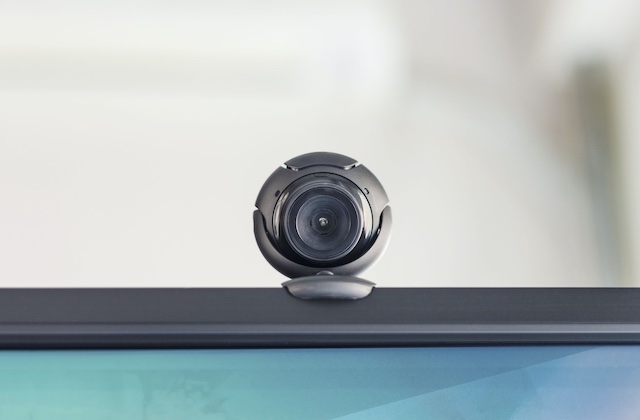 List of Samsung TVs with Webcam Support
To enjoy the benefits of using a webcam with your Samsung Smart TV, you must have one of these supported models:
AU8000 series
LS03A series
Q60A series
Q70A series
Q80A series
QN700A series
QN800A series
QN900A series
QN85A series
QN90A series
Webcams for Samsung TVs: List and Review
Let's now look at the USB webcams that are supported by the Samsung Smart TVs listed above. We have done a thorough review of each, so you can make a well-informed buying decision.
1. Logitech StreamCam Plus
The Logitech StreamCam Plus was marketed as a fantastic webcam for streamers and online content creation, and it lives up to the hype. It delivers excellent video quality alongside a range of features to help you customize the video and make it uniquely yours.
Out of the box, the StreamCam Plus comes in a uniquely cubic design that isn't seen in most webcams, making it stand out from the competition in terms of appearance. It measures 2.6 x 2.3 x 1.9 inches and weighs 5.3 ounces. It also comes with a monitor mount and tripod that allows you to mount it horizontally or vertically, with the latter mimicking the appearance of most front-facing mobile cameras.
Going further, the StreamCam Plus offers up to 1080p resolution at 60 frames per second for sharp, natural video with smooth motion. What's more, the camera lens works with smart autofocus tech to guarantee vibrant, true-to-life image quality.
This webcam is powered by the Logitech Capture software, which gives automatic exposure, framing, image stabilization, and a host of other powerful features that automate focus exposure and more. Alternatively, you can use any recording and streaming software of your choice.
Much like other webcams, the StreamCam Plus sports two microphones for recording your voice in either mono or stereo. They produced clear audio except that they may also pick some surrounding noise as there's no noise cancelation.
Pros
Excellent picture quality
Free software adds a couple of extra features
Landscape and portrait modes
Optimized for streaming
Cons
Expensive
No privacy cover
2. Logitech C930e
The Logitech C930e costs more than the average HD webcam but its wide viewing angles make it a great buy. It is mostly made of plastic with encompassing speakers, LED lights, and a camera lens. Measuring 3.7 x 1.7 x 2.8 inches with a weight of 5.7 ounces, this is one chunky yet light webcam.
An external, black plastic privacy shutter acts as a cover that pulls up and down to hide you from prying eyes and can protect the lens from scratches. But it's loose and not permanently attached, so you have to be careful not to lose it.
Coming to its key features, the C930e is capable of streaming over the internet in full 1080p HD video at 30 frames per second. It is compatible with Skype, Google Hangouts, and several other web video services. At a 90-degree view, this webcam also has a wide field of view, which means you can expect to get good image quality at all times – even when there's low light.
As for the audio quality, the C930e has two omnidirectional microphones, which surprisingly performed better than a laptop's mic would. The built-in noise cancelation further makes audio clearer.
On the software side of things, you can start using the C930e as soon as you plug it in. However, it loses compatibility with some of Logitech's own software due to different drivers and codecs.
Overall, this webcam is a great choice if you're looking for a webcam that takes sharp and detailed photos and videos. And if you work in a loud, noisy environment, the C930e is definitely your best bet, thanks to its superior noise cancelation.
Pros
Wide field of view
Sharp photos and video
Great noise cancelation
Plug and play installation
Cons
3. Logitech C920-C
The Logitech C920-C is one of the bulkiest webcams from the brand. It measures 1.2 x 1.5 x 1.3 inches. It is a lesser version of the C920, designed for those who want a nice streaming and videoconferencing device but at a more affordable price.
It is capable of recording 1080p at up to 30 frames per second with a 78-degrees field of view. The webcam is further supported by the brand autofocus technology for razor-sharp images and RightLight 2 technology to automatically adjust to different light conditions.
As per usual, this model comes with two omnidirectional microphones designed to pick voices in a variety of environments. It has no noise cancelation but its audio performance is fairly decent.
The Logitech C920-C works with most conferencing apps. Logitech markets it as a business product as it provides little control of some features.
Pros
Great build quality
Autofocus is great
Good HD quality
Cons
4. Logitech C922 Pro
Suitable for most mainstream users and businesses, the Logitech C922 Pro is a mid-priced professional webcam for streaming. It comes with the Logitech stand, which means you have a variety of options on how you can mount it. Since it was made for the webcam, it fits perfectly.
Design-wise, the C922 Pro is small enough to be unobtrusive, with a folding design that makes it possible for you to pack it away neatly when you don't need it. It's 1.7 inches high, 3.7 inches wide, and 2.8 inches deep with a weight of 5.71 ounces. Although it is made of plastic, it feels quite strong, durable, and pleasant to touch.
This webcam lets you record up to 1080p at 30 frames per second or 720p resolution at 60 frames per second. It also boasts a 78-degree field of view too, so you should be able to get two people on screen at a reasonable distance to the camera. Additional features include the automatic lighting correction and the autofocus feature.
Like all webcams, it comes with two integrated omnidirectional mics on both sides of the camera. They handle noise decently well, which means clearer audio with minimal distortion.
Since the C922 Pro has the Logitech Capture software, you can add text and change its size. Other features of the software include the ability to control recording and audio.
Pros
Full HD 1080p recording
Autofocus and auto light correction
Excellent build quality
Uses Logi Capture software
Cons
No privacy shutter
Relatively expensive
5. Logitech C922x Pro
If you're looking for a webcam for conferencing to set up and forget, the Logitech C922x Pro has you covered. It is an improved version of the C920, offering streaming and video calling at HD resolution at affordable pricing.
One of the first things you'd notice about the C922x Pro is its impressive build quality. The webcam itself is light and small enough to be unobtrusive. It's 1.7 inches high, 3.7 inches wide and 2.8 inches deep with a weight of 5.71 ounces, so you can safely fit it into your pocket. It boasts a folding design that makes it possible to neatly pack it away when you don't need it or for travel.
Logitech claims this webcam was specifically designed and optimized for streaming purposes, which is why it is able to record 1080p at 30 frames per second. The picture looks great and the colors are accurate even in a low light environment.
A major attraction to the C922x Pro is that it features background replacement software, which cuts out the software behind you so your webcam picture will take less space on the stream. The dual microphones put up a decent performance even though they tend to pick up a noticeable level of static.
Pros
Great picture quality
Easy to setup
Background replacement/removing
2 omnidirectional mics
Cons
The sound quality is subpar
Optional 60 FPS has issues
6. Logitech HD Pro Webcam C920
The Logitech HD Pro C920 might be a relatively old model but it still ranks as one of the best webcams you can buy today. It takes very clear audio and video while offering a balance between performance and affordability.
A bulky piece of technology, the C920 measures 3.7 inches at its widest but that bulkiness houses a 1080p camera flanked on both sides by LEDs and microphones. It comes with a versatile plastic clip, which allows you to prop it up on your desk, attach it to a tripod or mount it to your PC's monitor.
The camera allows you to video chat and stream at 1080p up to 30 frames per second, which can be reduced to 720p at 30 frames per second. The videos came out very clear but the photos aren't as vivid as in the photos. At a 78-degrees field of view, this webcam can squeeze 2 persons into a single frame.
Thanks to the motion detection mode of the C920, you can use this webcam as a security cam to keep an eye on your desk. The built-in microphones work well but the audio tends to be a little flat. It also manages to reduce ambient noise from the environment.
Pros
Sharp, clear photos and videos
Sturdy, reliable build
Autofocus is great
Affordable
Cons
Lacks variable FOV
Subpar microphone
7. Logitech C920S HD Pro
Portable and simple to attach, the Logitech C920S HD Pro is a great successor to the C920. It is easy to use and offers crystal clear audio and video at a great price. Plus, there are a handful of features to deliver value.
This webcam is bigger and studier than the company's less expensive models but this may be hard to notice given its physical proportions measuring 3.7 x 2.8 x 1.7 inches with a weight of 5.71 ounces. The package ships without a tripod but you get a mounting clip, which you can use to mount on the external monitor.
Unlike its successor, the C920S comes with a privacy cover, which is about the only improvement to its successor. Its capabilities remain the same: 1080p or 720p video resolution at 30 frames per second. Its glass lens contributes to clear video quality with images of the background and foreground looking sharp and clean. The 79-degree field of view is not adjustable.
Both Mac and Windows users are spoilt for choice with different videoconferencing and recording software options. The webcam has two omnidirectional mics and they don't have any issue picking up voices clearly.
Pros
Full HD 1080p
Privacy shutter
Autofocus
Automatic light correction
Cons
Field of view not adjustable
8. Logitech C925-e
If you're looking to put your best face forward during videoconferencing or streaming, the Logitech C925-e might just be the webcam you need. It has a no-frills design with a black coating. At 1.3 x 1.2 x 5 inches, the C925-e is longer than it is tall but it is ultimately small.
Also notable is the fact that this webcam is one of the widest around, with the space on either side of the lens housing the omnidirectional microphones. Thankfully, it has a privacy shade. It uses a clip-on design, so you might need to readjust it often. You will benefit from a tripod if image stability is important to you.
Based on its specs, it is not hard to see that this webcam was made for personal use. It outputs in 1080p, 30 frames per second while the 78-degree field implies that this model is more suitable for situations where you can stay at the center of the frame without needing to capture more of the background.
Furthermore, the C925-e is a plug-and-play device, which means it is easy to use. It works with just about any video conferencing software application including Zoom, Skype,
Pros
Integrated privacy shade
Dual built-in microphones
Certified for major apps
Cons
Expensive
FOV suited for a single person
9. Logitech C930c
Given its value proposition, the Logitech C930c is a moderately priced webcam that delivers sharp 1080p video chats and smooth audio performance with effective noise cancelation. It is mostly made of black plastic with a sleek style
Much like most webcams, the C930c is one chunky device, measuring 3.7 by 1.7 by 2.8 inches (HWD). The lens and microphones occupy the front of the unit while the mounting clip fits easily enough on any laptop or display bezel. The Carl Zeiss glass lens is the dominant feature of the silver front panel. What's more, this model has a built-in flash.
As stated earlier, the C930c records in 1080p with a very wide 90-degree field. This means more of your background can be viewed and you can have 2-3 persons in a single frame when video chatting. Photos look sharp and clear even in low-light conditions. Logitech throws in a 4x zoom into the offerings of this webcam, which is a really nice addition since you can now take control of what people see. You can also pan and tilt.
In the software department, Logitech provides three different apps: Logitech Settings, Logitech Tune, and Logitech Capture. The differentiation of the apps makes it easy to quickly make adjustments. As for audio, the C930c is a top performer, delivering crisp, clear voices, thanks to the noise cancelation.
Pros
Exceptional mic quality
Feature-rich
Ultrawide viewing angles
Crystal clear audio
Privacy shutter
Cons