A record of your car's speed on your dash cam video footage can be the only proof that you weren't overspeeding at the time of an accident. It can also save you from baseless allegations of overspeeding by lousy cops. So, when you're looking to buy a dash cam, getting one with a speedometer is a smart move.
In this article, we'd be reviewing some of the best dash cams with speedometers.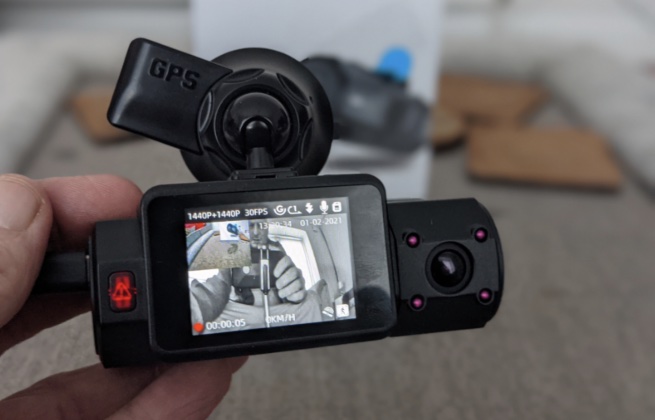 Dash Cams with Speedometers: Our Top Recommendations
The market now abounds with dash cams that record your car's driving speed along with the video of the road. However, making the right choice from the tons of options available can be quite challenging.
Thankfully, we made things easier for you by scouring the market for dash cams with the speedometer feature and comparing them in terms of performance, design, versatility, ease of use, brand trust, and price.
Here are our top picks.
1. Vantrue N2S
For professional drivers that want to get a clear view of all the activity in their car or regular drivers that want an all-around dash cam, the Vantrue N2SVantrue N2Smight be the best deal for you on the market. This high-end option offers a great range of features at a very reasonable price. While it is not the smallest of options, its sleek and compact design ensures your view won't be obstructed your view while you're driving. The 2-inch LCD screen is big enough to allow you to watch your videos as well as navigate through the menu.
Installation proves to be one of its simplest features. The unit's suction cup mount is also where the GPS-tracking capabilities are designed. If you prefer to go with another type of mount, this means you won't be able to use the features. While this sounds restrictive, the mount does a good job of sticking to the windshield and allowing for easy adjustment.
The N2S is a dual-channel 4K dash cam that will deliver clear videos at 2560x1440P at 30fps on the dual channels. The single front recording camera is even better, providing 4K quality at 3840×2160 at 25fps. Both cameras are able to deliver clear, true-to-life colors that will pick small details like license plate numbers even in dark environments.
The unit comes with some advanced features like 24-hour parking monitoring mode triggered by motion detection or collision detection which comes quite handy when documenting hit-and-runs or damages to your vehicle that happens in your absence.
The auto feature will trigger the camera and record the action inside and outside the vehicle anytime it detects motion. The 155-inch ultra-wide recording angle front-facing camera will capture every necessary detail around the vehicle while the 165-inch inside camera helps you capture more detail inside the cabin.
Wrapping up the most insane details, a supercapacitor fitted into the N2S dash cam prevents the risk of overheating and promotes the life duration of the dash cam in harsh water. It can withstand extreme temperatures ranging from 14 to 1580F. Another outstanding addition is the built-in G-sensor. When it detects a crash, it will automatically lock the video of the current accident and save it as an event video to keep the file protected.
While the features of the N2S are great overall, you might want to consider another option in our list if you're up for a dash cam with Wi-Fi for remote connectivity.
Pros
GPS feature works effectively
Easy to install
24hrs Front & Inside Parking Monitor
18-month warranty
Cons
G-Sensor could be a little sensitive
No app connectivity
2. BlackVue DR900X-2CH
If you're ready to expend a small fortune on a high-quality dual dash cam, then the BlackVue DR900X-2CH will make for a great pick. While featuring an insanely high price tag, this 4K cloud dashcam comes with a decent set of features to justify the expense.
The front camera comes equipped with an 8 megapixels sensor and delivers 4K Ultra high definition (3840×2160 @ 30fps). It has a 162-degree view angle which comes in handy for capturing the front and around the car.
We found the video quality to be just as impressive as the specs indicate. It is able to capture license plates that can be viewed in all clarity both in parked and oncoming cars. You won't have to worry about dim or dark environments as the camera is just as effective at night as it is in the day. Unlike other low-quality dash cams, you won't have to worry about glare from headlights and other bright lights when driving at night.
The rear camera isn't just as great but still outclasses many other picks in the market. It features a 2.3-megapixel STARVIS sensor and provides Full HD (1920×1080 @30FPS) recording. The view angle is not as accommodating as the front camera and maxes out at 139 degrees.
A big plus is the High Efficiency Video Coding (HEVC/H.265). This ensures that you get impressive 4K videos but the same recording storage as your regular FHD dashcam. This compression technology will save a lot of space when making videos. The dashcam also sports the auto parking mode feature. You won't have to purchase additional accessories to hardwire it to your vehicle's fuse panel.
Thanks to BlackVue DR900X-2CH, you can save your important videos to the cloud, play, and download at will. GPS and Wi-Fi are also available on this unit as well as optional LTE to access 4G LTE connectivity.
Pros
Easy to configure and setup
Mobile app is really good
Supports up to 256GB
Impressive video quality
Cons
Dual camera quality is subpar
The camera runs HOT to the touch
3. Rove R2-4K Dash Cam
For car owners, professional drivers, and just about anyone shopping for a dash cam that will be barely noticeable on your windshield, you will find comfort in purchasing the Rove R2-4K Dash Cam. This dash cam is also a great choice for drivers that aren't too concerned with what's happening at the rear.
It features a small 2.4 LCD screen where you can access your videos using the few sets of buttons at the bottom of the dash. You should be able to check the time, date, and your speed right off the screen of the dash cam.
As regards its build, the dash cam is overall sturdy with a suction that will affix it firmly to your windshield. Video-wise, the Rove R2-4K also scores high points. It offers 4K ultra HD recording at a resolution of 2160p.
This ultra HD video recording is quite impressive for catching small details at high speed. The Rove R2-4K also promises revolutionary super night vision technology. From our tests, we found this to be true. Night-time is almost as good as day giving you comparatively clearer footage and images even in extremely low light conditions.
Considering its affordability, it comes as a surprise that the Rove R2-4K features a built-in GPS which does the job of recording your driving location and speed. The built-in Wi-Fi will come in handy if you ever need to make use of the Rove App. Right there, you can download your recorded 4K videos on your smartphone.
The unit comes with some state-of-the-art upgrades like parking mode, motion detection, G-sensor, emergency video lock, loop cycle recording, slow-mo video, and time-lapse video. The icing on the cake is a full 1-year warranty that gives you the full assurance of quality.
Pros
Build-in Wi-Fi
Supports Up To 512 GB MicroSD Card
Multi-Language Support
Easy to setup
Cons
Unit could heat up with consistent use
App needs an upgrade
4. Kingslim D4 4K Dual Dash Cam
If you're on an extremely tight budget but you want a dual dash cam that that will give you top-notch video recording quality on both channels, the Kingslim D4 4K Dual Dash Cam is a perfect option to go for. For half the price, you get amazing picture quality and a decent range of features. While you won't be getting state-of-the-art built-in Alexa support, the Kingslim D4 features built-in Wi-Fi that allows you to connect to the phone app, playback, and download videos both on your Android and iOS devices.
This dash cam promises UHD videos from the front and rear cameras with the front camera providing most of the 4K(2160p@25fps), this allows you to see things ahead as well as read off the license plate of vehicles even at full speed. The rear doesn't offer close to the same quality but it still offers true-to-life colors with a 1080p resolution.
Thanks to the industry-leading Sony IMX335 STARVIS sensor and Hisilicon Hi3559 processor on this dash cam, night vision is just as impressive as recording in the day. The addition of WDR technology allows you to record stunning details in a dim environment and get maximum coverage of the road. The sharp and clear images and videos should make for enough evidence when the need arises.
A built-in GPS also comes with this unit. Right here you check your driving speed and route. The Kingslim D4 packs a high-temperature lithium battery built to withstand extreme low and high temperatures. Finally, installing the camera won't be troublesome, it only takes a few minutes to get it all set up and you won't need extra assistance to mount and install it in your car.
Pros
Large 3-inch display screen
Supports up to 256GB TF
Features app connectivity
Wide field of view
Cons
Rear camera can be tricky to mount
Not compatible with cards from third-party sellers
5. REXING V5 Dash Cam
The REXING V5 Dash Cam is truly the best pick for people that want to get all the action happening at the front of their car and are not worried about recording the inside or the rear. Though this is a single dash cam, it comes with a hefty price tag. However, you shouldn't write it off just yet, as it is packed with many impressive features which we and many other users have rated to be of great use.
Starting out, the REXING V5 delivers crisp and clear videos thanks to the 4K UHD camera. The resolution is up to 2160p and once again the SONY IMX335 sensor makes an appearance. It still performs the same function of allowing you to get high-quality video in low-light situations with WDR technology to fine-tune the exposure. With this, you won't have to worry about reading off license plates at night if you ever run into problems. The 170-degree ultra-wide angle lenses reduce blind spots and allow you to capture everything in your front view and surrounding areas.
A built-in GPS, mobile app, and voice control also come with this model. The voice control feature works just the same as that of your mobile phone allowing you to finish your photo/video taking tasks all hands-free. Extra helpful specs including a g-sensor, loop recording, and parking monitor. Keep in mind that the oldest recordings will be overwritten to make space for the new ones so you won't have to wipe the videos yourself all the time. If you want to keep them, you can connect to the dash cam using the app and download your video of choice.
The G-sensor could be your helping grace in the event of a collision. It detects the impact and locks the video for later use. The parking monitor instantly turns on the camera and records the video when the collision is detected while the car is parked. Unlike our previous picks, the REXING V5 makes use of an adhesive mount which might require a little more effort if you wish to remove and reposition the dash cam at any time. Aside from that, the installation is usually a breeze.
Pros
Built-in voice control
Impressive build quality
Can withstand high temperatures
Stunning video quality
Cons
Small screen display
App is sluggish
6. Vantrue S1
The Vantrue S1 is a dual cam that sits comfortably in between affordable and expensive options. The features of this camera are quite similar to other picks but it does a bit more in delivering high-quality videos in all lighting conditions. The front and rear camera will simultaneously deliver 1080p resolution and capture details of the road ahead in 170 degrees and behind in 160 degrees.
The crystal clear FHD 1920x1080p videos should provide a clear view of important details like license plates even while driving high speeds. The front dash cam alone will deliver a 4K video thanks to the Sony Starvis sensor. Recording at night is made even better thanks to Sony Night Vision. The F1.47 large aperture combined with the superior HDR allows the dash cam to adjust to low-light conditions and still offer clear and vibrant video quality.
The SI is a bit clunkier and bulkier than many modern dash cams but is quite easy to install with the adhesive mounts. The 2-inch display might not be the best when it comes to reading and navigating but it is quite intuitive to use. There are only five buttons along the bottom of the screen to navigate the menu and operate the dash cam as well as a power button on the side of the unit.
The built-in GPS module accessory will track the location and coordinate of the motor vehicle and log such details including the speed of the car on Google Maps. There is also the loop recording and G-sensor. The former will overwrite the oldest footage to make way for new videos once the card is filled to capacity. The G-sensor captures every moment after an impact and locks the footage to Event File. The parking mode will record moments when the car is not in motion, especially when you will out of the vehicle.
Extreme weather conditions won't be a problem for this dash cam. It comes fitted with a supercapacitor that allows it delivers the same clear quality in extreme temperatures from -4 to 158°F while maintaining its long lifespan.
Pros
Built-in GPS with live speed display
24 Hours parking mode
Heat-resistant supercapacitor
Support 256GB max
Cons
Appears bulkier and crankier
Drains car battery
7. AZDOME M550 Dash Cam
For people that want to record the front as well as the interior of their vehicle, the AZDOME M550 Dash Cam will make for a perfect pick. This model offers just the right quality needed by ride-share service drivers looking to record the activities of their passengers for their own security. It could also be a great way for private drivers to vlog and capture the fund moments of a road trip.
The AZDOME M550 still offers 4K video but this can only be experienced in the front camera. The powerful Novatek NT96670 Processor and GC4653 & Sony IMX307 & GC2053 sensors ensure that the front camera capture videos in clear quality that even in ultra-low light condition. The wide-angle lens falls a bit short of our top picks at 150 degrees but it will cover four lanes without distortion. Both the front and rear cameras deliver a 1080p. The unit is not quite different from other picks when you consider the night vision feature. It comes with hidden IR LED lights and an F/1.8 wide aperture that allows for superior images and enhanced image quality in any lighting condition.
The unit comes with a magnet mount that will stay put when installed but you should try as much as possible to get the right position with the first try. A 3.19-inch screen allows you to easily read details and navigate the menu without hassle.
The AZDOME M550 makes the same promises as the dash cams already on our list. It features built-in Wi-Fi and built-in GPS to record your driving route and speed. The Wi-Fi lets you connect to the AZDOME app where you can view and share your videos. There is also a 24-hour parking monitoring mode. There is also a supercapacitor that keeps the dash cam working in extreme weather conditions from -20'c to 70. This provides a longer life span than regular lithium-ion batteries.
Pros
Easy to configure
Records all 3 views same time.
Comes with a 32GB card
Large 3.19-inch display screen
Cons
Park view isn't best
Smaller field of view